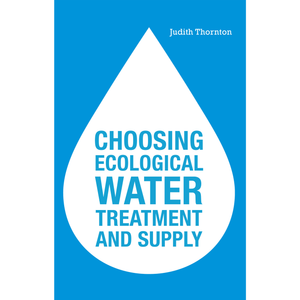 Choosing Ecological Water Supply and Treatment
BK0251
Regular price
£19.95
£0.00
For anyone setting up a complete water system from scratch, Choosing Ecological Water Supply and Treatment is the definitive guide to managing your H2O.
Covering all the potential sources of water, this book shows you how to find, connect, maintain, treat and store water, making it safe to drink in the most environmentally sound way possible.
Whether you have a mains supply or a private one, whether you want to understand it better or supplement it from another source, this book is full of invaluable advice on how to get it done. Suited to homeowners and professionals alike, regulations applying to water supplies in the UK are demystified and case studies are used to illustrate clear solutions to real-life water supply problems.
It is essential in our changing climate that every household adopts water saving measures. With Choosing Ecological Water Supply and Treatment you can calculate your demand, reduce your water consumption, find out if rainwater harvesting is for you and learn how best to reuse water in the garden.
Author: Judith Thornton

---
Share this Product
---
More from this collection