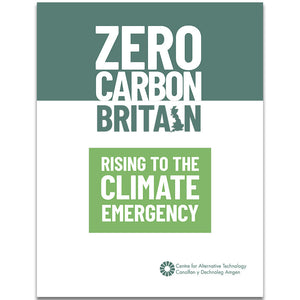 Zero Carbon Britain: Rising to the Climate Emergency
BKZ1000
Regular price
£7.99
Sale price
£9.99
Our latest report builds on the groundwork laid by Zero Carbon Britain projects over the last 12 years, incorporating the very latest developments in science and technology, to show that we can create a zero carbon Britain using only proven technology.
We already have the tools and technology to efficiently power the UK with 100% renewable energy, to feed ourselves sustainably and play our part in leaving a safe and habitable climate for our children and future generations.
Showcasing a positive and technically feasible future, the scenario in the report aims to stimulate debate, foster all-party political commitment and catalyse action across all parts of society.
"Exactly the kind of roadmap we need in these times." – Julia Steinberger, Professor of Social Ecology and Ecological Economics
"Now that we finally have a target for zero carbon, it is high time we had a proper plan for how to get there. CAT have been ahead of the game and looking at this for years.  This Zero Carbon Britain report fills in some of the much needed detail about what that carbon free future can look like." – Mike Berners-Lee, researcher and author of There is No Planet B.
"Essential reading for politicians, business leaders and anyone interested in developing effective solutions to the climate emergency." – Kevin Anderson, Professor of Energy and Climate Change
"We're miles behind in the fight to slow climate change, and so the bold plans offered here are clearly necessary – the clarity of these goals should provide our marching orders as a society in the decades ahead." – Bill McKibben, 350.org
---
Share this Product
---
More from this collection