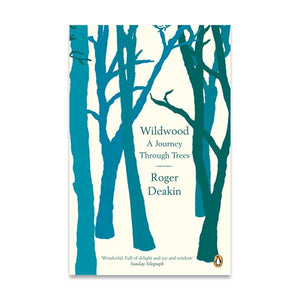 Wildwood
Regular price
£10.99
£0.00
Rober Deakin (Author)
A much-loved classic of nature writing from environmentalist and the author of Waterlog, Roger Deakin, Wildwood is an exploration of the element wood in nature, our culture and our lives.
From the walnut tree at his Suffolk home, he embarks upon a quest that takes him through Britain, across Europe, to Central Asia and Australia, in search of what lies behind humanity's profound and enduring connection with wood and trees.
Meeting woodlanders of all kinds, he lives in shacks and cabins, travels in search of the wild apple groves of Kazakhstan, goes coppicing in Suffolk, swims beneath the walnut trees of the Haut-Languedoc, and hunts bush plums with Aboriginal women in the outback.
Perfect for fans of Robert Macfarlane and Colin Tudge, Roger Deakin's unmatched exploration of our relationship with trees is autobiography, history, traveller's tale and incisive work in natural history. It will take you into the heart of the woods, where we go 'to grow, learn and change.
---
Share this Product
---
More from this collection